Make-A-Wish® International Announces Partnership with Utomik
admin
Gaming platform Utomik supports wishes granted to children with critical illnesses in 50+ countries
Location:
Phoenix, Arizona USA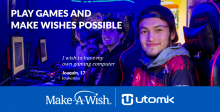 Make-A-Wish® International is proud to announce it has partnered with Utomik, a Netherlands-based online PC gaming subscription service, to provide support for its mission to grant the wishes of children with critical illnesses around the world. Through its partnership with Make-A-Wish International, Utomik will assist in bringing life-changing experiences to children, families, and communities in more than 50 countries.
Starting today, Utomik will donate to Make-A-Wish International 5 EUR for each new paying subscriber that signs up through the Make-A-Wish portal on the Utomik website. Additionally, Utomik will continue to donate a part of any user's subscription fee who signs up through this portal to Make-A-Wish International as long as they remain subscribed, giving a meaningful way to support the charity long-term as well as short term.
These funds will support the charity's wish-granting efforts globally. This charitable activation offers gamers around the world the opportunity to help transform lives, one wish at a time, while gaining access to an ever-growing library of PC gaming content. New users can sign up on gaming.utomik.com/make-a-wish to subscribe to Utomik and participate.
In addition to this activation, Utomik will also support Make-A-Wish International through the donation of family subscriptions. Wish children around the world connect to their friends and momentarily escape from their treatments by playing video games while fighting for their lives. Utomik enhances the lives of these children by offering a window into a world beyond illness, and enrich gaming communities by giving them the opportunity to support wish-granting through fundraising.
"All of us at Utomik are thrilled to be able to support Make-A-Wish International in helping to grant the wishes of eligible children around the world," said Doki Tops, CEO, Utomik. "With the help of our subscribers, and through the donation of subscriptions, we are grateful for the opportunity to give back to such a great cause that transforms lives of wish children and their families."
"With an ever-increasing number of gaming-themed wishes from our wish children, the support from Utomik, its employees and its subscribers will be so beneficial not only to Make-A-Wish International, but to the local communities where these wishes are granted," said Michel Rudolphie, President and CEO, Make-A-Wish International. "Thanks to Utomik's support, we step ever closer to fulfilling our vision to grant the wish of every eligible child."
With the debut of this strategic partnership, Make-A-Wish International and Utomik look forward to the impact they will make, together, on bringing life-changing wish experiences to children with critical illnesses around the world. To learn more about this partnership, visit gaming.utomik.com/make-a-wish.
About Make-A-Wish International
Make-A-Wish® creates life-changing wishes for children with critical illnesses. We seek to bring every eligible child's wish to life because a wish is an integral part of a child's treatment journey. Research shows children who have wishes granted can build the physical and emotional strength they need to fight their illness. Make-A-Wish is the world's leading children's wish-granting organization, serving children in more than 50 countries worldwide. Together, generous donors, supporters, staff and more than 45,000 volunteers grant a wish every 17 minutes, on average, somewhere in the world. Since 1980, Make-A-Wish has granted nearly 480,000 wishes to children; more than 30,000 in 2018 alone. For more information about Make-A-Wish International, visit worldwish.org.
About Utomik
Utomik provides 950+ PC games in a monthly subscription, with more titles being added every week. Using our state of the art technology, games are playable after downloading only a small part. Get the full gaming experience with no streaming and no lag.
There is a wide variety of games available thanks to partnerships with publishers and developers such as Disney, Warner Bros. Games, Deep Silver, Raw Fury, Curve Digital and 100+ more. Games from multiple genres such as FPS, RPG, Strategy, Action Adventure, Indie and many more provide a deeply diverse catalog with something to enjoy for every kind of gamer.